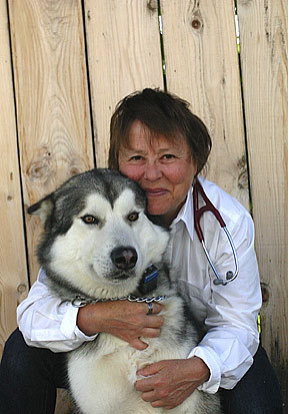 Dr. Deidre Puaoi recently opened SeaCoast Veterinary Group
Dr. Deidre Puaoi recently opened SeaCoast Veterinary Group in Imperial Beach. Pictured here Dr. Puaoi hugs her dog Shane.
Dr. Deidre Puaoi had an eye on opening an office in Imperial Beach. When Seacoast Pet Clinic became available she jumped on the opportunity. "They say when you find the right hospital you know it. It took me two seconds," she said.
In January of this year, Dr. Puaoi renamed the clinic SeaCoast Veterinary Group to reflect all of her staff, did some painting and purchased new equipment. The first major purchase was a scale followed by an ultrasound machine, digital X-ray machine, monitor for anesthesia and digital dental x-ray.
Dr. Puaoi, or Dr. Dee as she is also known, was a molecular biologist and worked at Scripps Research Institute and Oregon Health Science Institute before becoming a veterinarian. "I made a career change to follow my life-long passion," she explained. She studied at Washington State and Oregon State universities under a split program and completed the Don Low emergency medicine and critical care at UC Davis Veterinary School. Dr. Puaoi has worked with a variety of animals including horses, cows, pigs and sheep. During the slow economy because of her versatility she stayed employed as a free-lance veterinarian while also taking care of her father. Dr. Puaoi's father was in the U.S. Navy and the family traveled to many duty stations including living in Germany. Her father was from Molokai, Hawaii, and her mother from Florence, Italy. "Pets afforded me a sense of stability," she said about the many moves the family endured.
Dr. Puaoi strives to keep her "prices affordable while maintaining high quality," she explained. She recently started a package for kittens and puppies. "At each exam, prices for the vaccinations go down to encourage people to do the series," she said.
She is a strong believer in forming a trusting relationship with pet owners. "It is essential for the clients to trust me and me to trust them," said Dr. Puaoi. She explained she builds her practice on integrity and needs to be able to look at herself in the mirror and know she is being honest and her decisions are well-thought of. "I just want the pet to get better," she said. This means doing tests that are necessary to find out what is a wrong with a pet.
The full-service practice does spaying, neutering, performs surgeries and dental cleaning. Dr. Puaoi will triage wildlife if necessary. She also treats ferrets. Although they are illegal in California they can be treated by a veterinarian, she explained adding that she owned five ferrets at one time but would not say in which state. Dr. Puaoi would also like to build her practice by treating reptiles and small mammals. She also offers discounted exams to working or retired military dogs as well as search and rescue or police dogs.
Dr. Puaoi has pets of her own, she has a dog, Shane, a cat, Kathy, a lizard named Liz and a parrot, Buddy, and fish.
She has a staff of four and one intern. Her staff includes Armando Pelayo the office manager who is a licensed veterinarian in Mexico.
Her clients come from both Imperial Beach and Coronado. "Our clients from Coronado and IB have been great …It's easy to get to us," she said. Dr. Puaoi. She is an official delegate of the San Diego County Veterinary Medical Association to the California Veterinary Medical Association. Dr. Puaoi said sometimes she will take dogs outside to examine them if they are scared inside. For this veterinarian it's all about personal service. "My patients know me by my smell," she said with a smile. SeaCoast Veterinary Group, 600 Palm Avenue, Suite 103. 619-429-7387. Hours: Monday-Friday 9 a.m. to 5 p.m., Sat. 9 a.m. to 12 p.m.. The practice can also be followed on Facebook for news and specials.